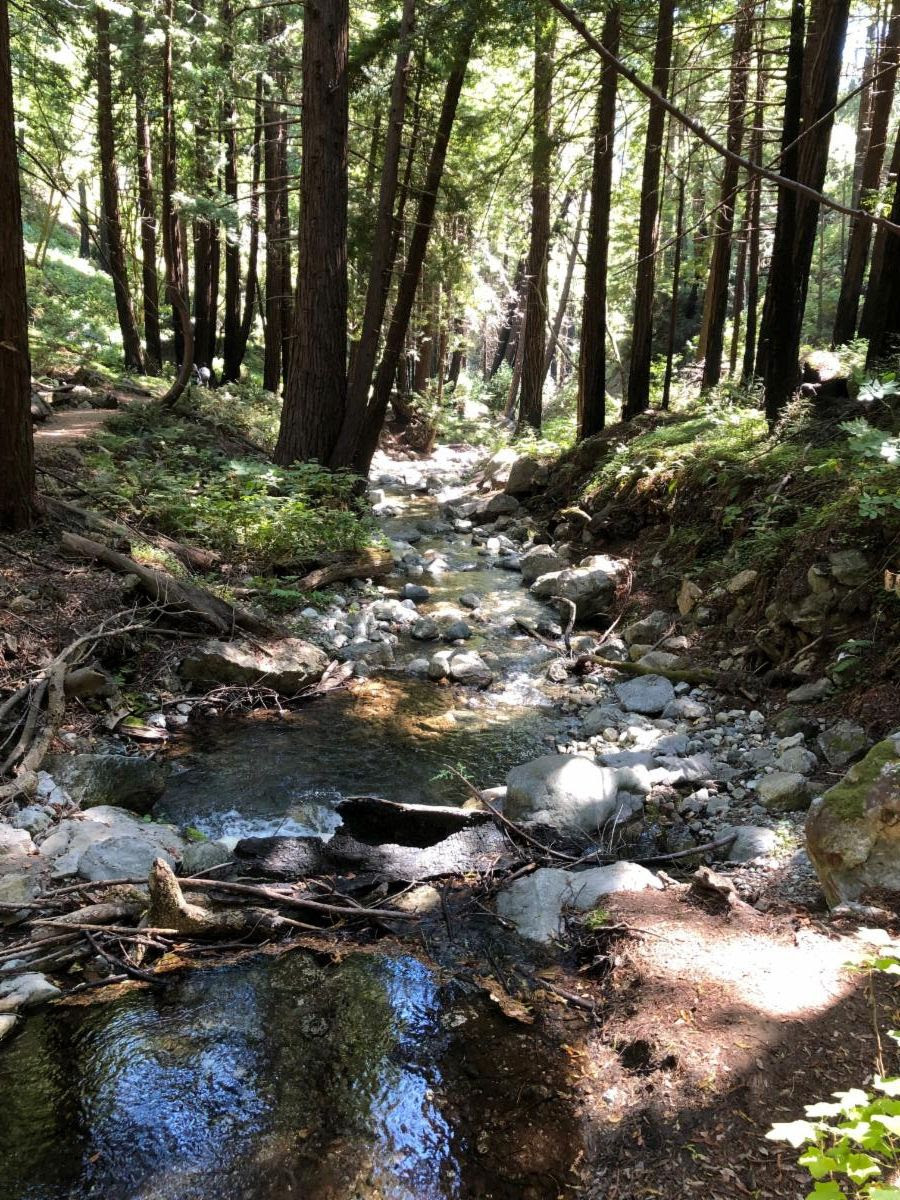 We Californians are very spoiled, surrounded as we are by so much natural beauty. It helps to make up for the much less appealing aspects of life in the Golden State: high taxes, high citizens (check out our medical marijuana centers now as ubiquitous as Starbucks cafes!), stratospherically high real estate prices, and earthquakes.

So, Jeff and I were thrilled to return to our favorite vacation spot, Pfeiffer Big Sur State Park, a sparking jewel of California's central coast. Fires in recent years made access to Highway 1 impossible for long stretches, but now that iconic twisty road that hugs the gorgeous coastline is open for business. We stayed at the Pfeiffer Big Sur Lodge, which we love, and where Steller's jays will gladly join you on your cottage porch for breakfast or lunch, just waiting for you to drop — or toss — some crumbs their way. I can't stop gazing at these birds; the blue of their feathers is rich enough for ink.
This was our third foray up to Big Sur (a 6-7 hour drive from our home in Los Angeles), and we discovered some new, fantastic spots, particularly the stunningly beautiful Limekiln State Park, which has lovely waterfalls, campgrounds, trails and massive sycamores and redwoods. One thing Jeff and I both love about these trips is that most people you meet on a trail, a bridge, or the beach, are decidedly not on their smartphones. Instead, people are looking straight ahead, smiling and greeting other people, offering to snap photos of passersby, and just being relaxed. This is us on one of the bridges at Limekiln Park, but it hardly does justice to the place. You'll just have to check it out for yourselves! And I hope that you do
I tried to think about future writing projects while we were away, but that was a total bust. Frankly, I was too busy unwinding, staring in awe at the majestic redwoods by day and the starry skies at night, and taking the long walks that seem so much less appealing in the city. I think I made the right choice!

I am enjoying working with some new clients right now, including a very talented writer whose memoir manuscript I am editing, and a healthcare executive who is starting her first blog. As usual, I'm reading way too many books at a time. One book I'm enjoying, and finding quite poignant, is "Tevye the Dairyman," translated from the Yiddish, for an online class I am going to take by Harvard Yiddish Professor Ruth Wisse, about these fabled stories by Shalom Aleichem.

And now, Here are the most recent things I've published:
Blinded by the Light: What Bruce Springsteen's Music Meant to Me
When I was single, I once accepted a date with a man I knew I wasn't really interested in. This was clearly not my finest moment, but many readers may offer absolution when I explain that he had tickets to a Bruce Springsteen concert. He was a music producer and in possession of very expensive, enviable seats, the likes of which I would never sit in again. I wrestled my conscience to the ground in about two seconds. No way would I miss this opportunity to see "the Boss" in concert for the first time.

Springsteen and his incomparable E Street Band played with electrifying abandon. Thousands of us danced and sang along with Bruce during "Born to Run," "Thunder Road," "The River" and other hits. I'll never forget the thrill of that evening, and the high that lingered through the following days. . .Read More
The Day I Got Scammed
A few weeks ago, I was the victim of one the most common scams going around these days: a fraudulent tech support call to help me with a problem I had reported to Hewlett-Packard about my printer. Thanks to the quick action of an employee from Western Union, the conman couldn't put through his more than $2,000 charge on my credit card. . .Read More
Missing the Patriotic Spirit on the Fourth of July
From earlier this summer, here's an essay about a 4th of July concert where the patriotic spirit seemed in short supply. . . perhaps telling of the rancorous political times we live in.
Read the story here.
The Cake Topper
Here's a surprise: my first published short poem, inspired by a tiny keepsake that is very dear to me.
Read More
Making it Real this Rosh Hashana
I am sending out this newsletter less than two weeks from the Jewish High Holidays. Rosh HaShana, the "head" of the Jewish new year, is a momentous day. We stand both in judgement before God, as well as in dedication to continuing to connect with Him as both Father and King. It can be overwhelming and emotional. If you feel put off by the holiday, here is an essay I wrote last year about Rosh Hashana last year, Making It Real on Rosh HaShana, that I hope will have some nice "takeaway" for almost every reader.

For my non-Jewish readers, I also want to take this opportunity to wish each and every one of you a healthy and blessed New Year. Rosh Hashana is considered not just "our" new year, but the New Year for the entire world!

Now, please don't skip my last section, because I have a special offer for you!
---
Special Offer! Free downloads of "The Skeptic and the Rabbi" — while supplies last!
Audiobook fans, this is your moment! For a limited time I am offering links to free downloads of the fantastic audiobook produced by Cedar House Audio of my memoir. In return for the download, I ask for an honest review posted on at least one audiobook review site, as well as on Amazon or Goodreads. To request, email me at judyrgruen@gmail.com and let me know where you plan to post the review. And please do send me a link to it when it's up.

Click here to listen to the first few minutes of the audiobook. The ebook and softcover book make great gifts also!

I'll be the guest author next week at a local synagogue book club that has been reading The Skeptic and the Rabbi. Are you in a reading group that enjoys non-fiction? Why not recommend my memoir? I'm happy to set up Zoom meetings if your group is not local.

READER REVIEWS FROM AMAZON:
"She writes with honesty, joy and wit about her spiritual journey and I enjoyed and benefited from every page. The memoir begins with her wedding day and ends with the wedding of their oldest son . . . I recommend this book for anyone who wants to know what a Torah-observant life looks like; anyone who has ever struggled with issues of faith; anyone who is on any kind of spiritual quest."

"I found the book very insightful and could not put it down. Read it in 6 hours."

"This is a book that will stay with you for a very long time. It is food for the soul."

Click here to purchase your copy of The Skeptic and The Rabbi: Falling in Love With Faith