Our son Ben and his wife Rivka welcomed a new son into the family at the end of November. It is the custom of Ashkenazi Jews to name children after family members who have passed away. Our family's only redhead so far, Herschel Yaakov, now 3, was named after both his great-grandfathers. Our newest grandson, whom we call Dovy, was named for my maternal grandfather, born Dov Ber Konopiaty in Sokoly, Poland in 1900. That's the name he arrived with at Ellis Island, but when he went out the doors on the other side he had been unceremoniously renamed Bernard Cohen.
As you can see, Dovy is learning the hard way what life is going to be like with an older brother getting in his face, even with the best of intentions.
Before Dovy arrived, I had spent many, many hours over a period of months going through boxes of my grandfather's papers, career mementos and artifacts. He had a long and distinguished career as a congregational rabbi and Jewish educational leader, particularly in Los Angeles from the late 1930's and through the early '50s. It was painful for him and my Nana to watch how quickly most of their grandchildren left the Jewish traditions that meant so much to them both. We are thrilled that all our five grandchildren have been named after loving great-grandparents, or in this case, a great-great-grandparent, whose legacy lives on through them.
The photo above shows my grandfather in 1920 with his family in Poland. Left to right: his mother Raizel; brother Kalman; father Yoel Hersch, sister Rose, and my Papa, who is foreshadowing his emigration by wearing more Western attire.
---
My Mother's Annual "Surprise" Party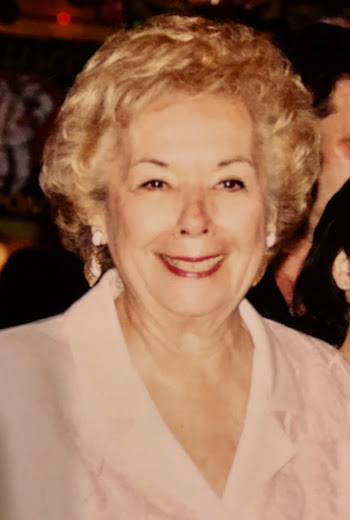 Apologies to those of you who remember this essay about my father's yearly stunt of planning a "surprise" birthday party for my mother, but it is so close to my heart that I offered a newly edited version of it to
ReadtheSpirit.com
, a popular website devoted to issues of spirituality of many flavors. I had contributed to ReadtheSpirit in years past and was honored to be asked to contribute again.
As it happens, this is also a family-centered piece, and my late mother, Liebe Leah, pictured to the left, also has a namesake in our family in our five-year-old granddaughter.
---
300 Years After Death, Gilkl bas Leyb Becomes a Literary Celebrity
My latest contribution to Aish.com is about a remarkable woman who left a rare and often riveting memoir, something she wrote only for her children and grandchildren, but fortunately one that was discovered and has made its way down through the centuries. The memoirs of Gluckel of Hameln, as this work is most widely known, has been translated several times and into several languages. A few month ago I learned of a new, updated translation with a fantastic introduction and footnotes galore, which confirm the truth of most of what Glikl wrote about people and events. Honestly, I almost feel I should earn a master's degree in history for all that I have learned from this book!
---
Seven Ways to Strengthen Friendships
In our overly connected, social-media obsessed society, nurturing meaningful friendships is more important than ever, yet more elusive as well. This story offers helpful insights from experts about how we can strengthen these vital personal connections.
---
Do I Dare? Okay — Here's the Story that Got Me into BIG Trouble
We've all heard the word "privilege" batted around. When someone is called privileged these days, it usually means, "You don't understand me, you are incapable of understanding me, and you probably don't care to understand me."
Well, one day a total stranger suddenly accused me of being privileged. It was a bizarre and upsetting experience, and I wrote about it. While I certainly expected some blow back, I wasn't prepared for the extent of the angry comments and the hostility in some of them. This made me reconsider the entire incident, whether my detractors were right and I was wrong, and how I could have managed the situation better. Even after much reflection, I believe that many of the angry comments were made by people who missed my main point entirely. Still, there is something to learn from every situation, and this was no different.
Curious? You can read essay, My White Privilege Has Nothing to Do with It, and I hope most of you will still respect me in the morning.
---
I'm excited to announce that I will be teaching my first online course in writing, specifically, a 4-part series called
"The Art of Persuasive Writing,
"
through Story Circle Network. My class will run from April 20 – May 18. As with all courses through Story Circle Network, the classes are for women only, and enrollment is strictly limited. I hope some of you will sign up! Whatever genre of writing that interests you most, focusing on the nuts and bolts of making a persuasive argument will boost your writing skills and help you analyze opinion pieces. I'm really looking forward to this!
Recently, I also completed an advanced editing certification program from
Poynter's News University
, taught by former editors of the New York Times and other major media outlets. I'm investing more time and energy in upping my game, networking with more writers and editors, and as always, loving my work.
---
READER REVIEWS FROM AMAZON:
"Wow I loved this book! . . . This could easily be the author's literary legacy."
"She writes with honesty, joy and wit about her spiritual journey and I enjoyed and benefited from every page. The memoir begins with her wedding day and ends with the wedding of their oldest son . . . I recommend this book for anyone who wants to know what a Torah-observant life looks like; anyone who has ever struggled with issues of faith; anyone who is on any kind of spiritual quest."
"I found the book very insightful and could not put it down. Read it in 6 hours."
"This is a book that will stay with you for a very long time. It is food for the soul."
Click here
to purchase your copy of The Skeptic and The Rabbi: Falling in Love With Faith.